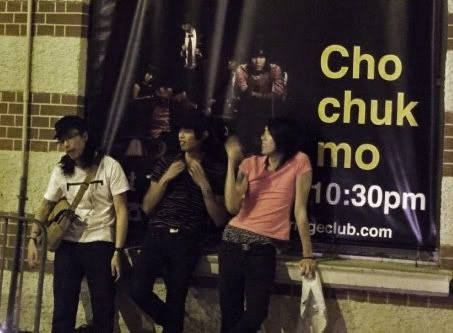 Yesterday when I was walking with Jan to the Fringe Club before the gig, we were chatting all along the way, with Jan on my right side. There was one funny moment when I turned my head to Jan, I saw another Jan pointing his finger to me. That's how we discovered this big poster of Listen Up! 29. We leaned at the fence, kept staring at ourselves on that big poster over minutes. Well, one word to best describe, SICK.
Before the gig Jan and I went to Musicland, where we had our JAM2008 audition at, to check out the band kids over there. If we're not there watching and listening we won't be having an idea of how talented the kids are. We've met lots of young musicians, who're aged from 13 - 16, and are extremely talented. We're so impressed by many of the bands over there that I'd like to take this chance to introduce them a bit.

Icarus Flight Plan

, a 3-piece-band aged around 13, playing original post-rock music with complicated rhythms. Extremely talented drummer, who absolutely mastered rhythms beyond his age.

Art of Ash

, another 3-piece-band aged around 16, playing guitar-driven rock music. Vincent, the guitarist plus vocal gives out some catchy guitar riffs as well as tons of Hendrix-Kravitz-influenced solos. I'm already a big fans of these bands.
They'll be playing at JAM2008 this year, and I just can't wait to watch their performance.
Mike loves da Orange